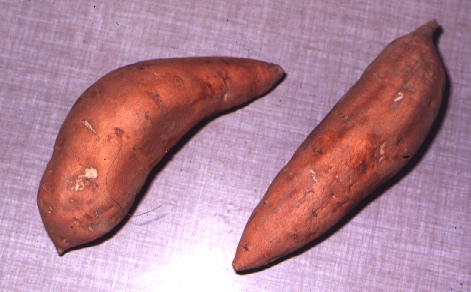 BUY 2-3 TATERS SO YOU WORK THEM IN DIFFERENT STAGES DURING THIS 30+ DAY FUN PROJECT.
* BUY BIG ONE'S, IT'S GONNA SHRINK AND MUTATE FOR A MONTH AFTER YOU SKIN HIM. BEFORE BUYING, LOOK AT A FEW TATER SHAPES AND PICK THE ONE THAT YOU SEE A CARICATURE IN. I CARVE FACES, CABINS, CARS, SOMETIMES DRAGONS. KIDS GET A KICK OUT OF DOING THESE. GUYS NOT OLD ENOUGH TO USE A KNIFE ARE ASSIGNED TO THE SHRINKING DEPT., MUTATE DEPT. AND MUSHIN INSPECTOR.
1. SKIN HIM OUT, REMOVE A PAPER THIN LAYER OFF.
2. SOAK IN HOUSE HOLD BLEACH 75% / 25% WATER. USE SOMETHING TO HOLD HIM UNDER. PURPOSE; SOLUTION WILL REMOVE MOST OF THE SUGAR. DON'T DO THIS AND ALL YOU GET IS A GLOB OF BLACK MOLD. SOAK FOR ABOUT 1/2 HR.
3. REMOVE AND DRY W/PAPER TOWELS, SUBMERGE #2
5. CARVE WHAT YOU CAN, CUT IT DEEP SO AIR CAN ENTER. HE TELL YOU WHEN IT'S TO SOFT, THE FIBERS WON'T CUT, THEY'LL TEAR.
6. LAY HIM ON A PAPER TOWEL, IN FRONT OF A FAN. IN 24 HRS. TRY TO CUT A LITTLE MORE. THE IDEA IS TO GET HIM OPEN ENOUGH FOR CIRCULATION. ON THE 3RD DAY I CUT A CHUNK OUT OF THE BACKSIDE (NOT FULL LENGTH, 1" WIDE x 1"DEEP.
7. AS TIME GOES BY HE BEGINS TO SHRIVEL AND MUTATION SETS IN. TAKES UP TO 2 WEEKS DEPENDING ON VARIOUS CONDITIONS
NOTE; I HEAR U THINKING, GO AHEAD, PUT ONE IN THE MICROWAVE, SEE WHAT HAPPENS, EVEN USE UR HAIR DRYER.
8. NOTICE HE'S GETTING A LITTLE HARD ON THE SURFACE AND SPOTS OF BLACK ARE SHOWING, CARVE THOSE AWAY AND DO SOME MORE FORMING. USE A COTTON SWAB WITH BLEACH TO DAB THE SPOTTY AREAS.
9. IT'S PROBABLY TIME TO BACK OFF, HAVE UR MUSHY INSPECTOR APPROVE THE CONSISTENCY AND LET THE PIECE SIT IN FRONT OF THE FAN, ROTATE HIM AT WELL.
10. WHEN HE'S ABOUT WOOD HARD, YOU START DETAIL WORK WITH KNIFE AND POWER TOOLS.MISTAKES CAN BE CORRECTED WITH CA GLUE.
11. FINISH WITH SAND PAPER AND ACRYLIC PAINTS, TOP OFF WITH A SEALER.
NOTE; IF FORMING AN EYE SOCKET AT A SEMI-MUSHY POINT, SLIP A DRIED BLACK EYE PEA IN THE SOCKET AND WATCH IT GET MUTATED OVER. SOMETIMES I CUT THE PEA IN HALF
AND USE THE "EYEBALL" WITH A LITTLE OF THE WHITE SHOWING.
12. MOUNTING. I STICK A GOLF BALL TEE IN THE BACKSIDE TO PROP EM UP OR GLUE EM ON SOMETHING.
THERE'S REALLY NO STEP BY STEP "HOW TO" FOR THIS, JUST GOOD JUDGEMENT.